WHY THE LONG FACE
So, before we knew it, Jen and I were in the Rio Cardroom fully braced for the much anticipated H.O.R.S.E Event (Hold'em, Omaha Hi-Lo, Razz, Stud, Stud Hi-Lo – although for ages my brain was telling me that the 'O' was straight Omaha, Doh!).

Greenstein, Duke, Chan, Hellmuth, Seidel, Cloutier (left), Brunson, Farha, Negreanu, Mizrachi, Lederer, Matusow, anyone who's anyone in the World of poker was there (except tikay of course), and they all had Full Tilt gear on too! I mean, c'mon, how many players do those guys sponsor?? Just greedy, give blonde some!
As is standard in WSOP Events, as soon as play drops to 15 tables, the media (except ESPN and Cardplayer) become mere mortals again and are forced to stand on the rail with everyone else. Well, in fact, we are normally trying to battle through a 3-layer thick crowd due to moving to and from the media room.
So, with chip counts and hand spotting made even more difficult than usual (not to mention the fact that it was a comp of mixed games), I was left hanging around the doorway waiting for players to pass come breaktime. As they rushed by (many dying for a trip to the loo), I tried my best to grab the ocassional chip count. Some were very accomodating, others not so.
Everyone likes a bit of gossip on what players are life off the TV screens, so, as this was my first encounter with many of the 'stars', here are a few of my initial impressions.
-- Chad Brown and Ted Forest = blanked me when I asked for the chip-counts – cheers boys!
--
Erik Seidel
= seemed like a genuinely nice chap. Softly spoken, stopped to speak to me, and actually appeared to accept me as a fellow human being rather than a mere peasant. Top man.
--
Annie Duke, Mike Matusow, Phil Hellmuth
= I'm sure their nice enough, but they clearly like to be the centre of attention.

--
Chris Ferguson
= I wasn't sure what to make of 'Jesus'. He seemed very reserved and look absolutely exhausted. Perhaps he hasn't been feeling too well this week as I haven't really seen him around much. Still, if that lass he exited with is indeed his other half, he'll soon be smiling again. Aye carumba! She must have been charmed by his carrot/cucumber/banana slicing skills.
--
Max Pescatori
= admittedly, I wasn't too sure at first, but after speaking to him afterwards, I quite liked this chap. His favourite card is the seven of diamonds, apparantly the most precious card in his homecountry of Italy, can't for the hell of me remember why though.
--
Erik Lindgren
= crikey, face like a smacked bottom. Cheer up ol' chap.
--
Doyle Brunson
= an absolute legend, what am ambassador for the sport. Always has time to sign autographs, shake people hands, chat to his fans – can't praise him enough. I don't normally get star-struck when I meet poker players as I really just see them as normal people and don't like being lured into this idea of 'poker celebrity', but, I really was in awe of Doyle when I first met him - a huge character who really stands out in a crowd. Again, top man.
--
Phil Ivey, John Juanda
= I have the utmost respect for these guys. Nieghbours in the H.O.R.S.E they sat quietly and just focused on their game, not worrying about the cameras or trying to make themselves known – just played poker. On the final day, it was truly bizarre to see Ivey queing up in the hotdog stand with a few bucks in his stand, especially when he was in the middle of playing for millions. Even the Grosvenor give free food to finalists! Very surreal.
Word association:
--
Daniel Negreanu
= loud
--
Tony Bloom
= quiet
--
John D'Agostino
= shaven
--
Barry Greenstein
= unshaven
--
TJ Cloutier, Brett Jungblut, and Howard Lederer
= big green giants
--
Freddie Deeb, Jennifer Harman and Sam Farha
= tiny oompa-loompas
--
Todd Brunson
= comic book guy
--
Andy Bloch
= Robin Williams
--
Josh Arieh
= confident

-- Robert Williamson = fun

-- Gavin Smith = intoxicated

-- Scotty Nguyen = Fonz

-- Greg Raymer = fashion police (sorry, two words there, but c'mon, sandals, white socks, beige shorts and orange shirt – that pushes the antecool philosophy way too far)
--
Cyndy Violette
= MILF (sorry, that is so uncooth)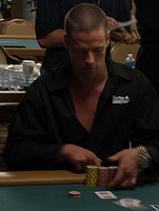 Anyway, back to business – it was a top-class field packed with 'name' players, many of whom bit the dust earlier than expected. Nguyen, Negreanu, Devilfish all struggled early on, leaving lesser known chracters such as Antonius (left), Cassidy, and Allen Cunningham to take control at the top.
What your update team never expected, however, was a 20 hour session for Day 2 which would see us hit the sack at the bizarre an unexpected time of 9pm. What was more incredible was that veterans such as Doyle, Dewey Tomko, Chip Reese, and Tom Franklin were fairing better than many of the young guns, showing that you didn't necessarily have to be under the age of 30 to have the mental and physical stamina to keep up. In fact, Doyle appeared as a fresh as a daisy!
And what a final table we ended up with - just what the ESPN doctor ordered. Reese, Brunson, Ivey, Bloch, Antonius, Cloutier, Tomko, Betchel – I'm sure Mr TV Director was quite moist at the mere thought of this bunch crossing swords, especially in a No Limit Texas Hold'Em Final. Speaking of which, I can't be the only one who finds this ridiculous. Of course, we can all understand why it was changed, but that doesn't make it right. They spend all week playing a wide range of games, displaying a variety of skills in a Limit structure where the best and most consistent performers will tend to come out on top, and then, suddenly, the whole comp is turned on it's head and we're back to lottery time. One word from this Beagle – grrrrrrrrrrr.
Anyhow, Texas it was, and after pre-final favourite Ivey's second pair was outdone by Bloch's flush draw, we were down to two, leaving Jen and I eagerly awaiting an early night. Yipeeeeee!
7 hours and 6 minutes later, we were still there. Shopping bags under our eyes, and knuckles dragging along the floor. I'm sure Jen started hallucinating at one point as I seem to recall her babbling on about how I was the coolest person in the world, well, something like that anyhow.
Equipped with blurry eyes and aching limbs, we watched patiently, yet increasingly frustratedly, from the stands (of which had become more and more baron as the heads-up progressed) and leapt up in shock when both players announced all-in. Blimey! Must have been a slip of the tongue!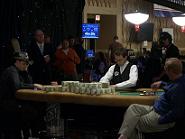 Up to this point, there had barely been a reraise and most hands followed a similar pattern. Preflop bet, call, flop or turn bet, fold. Zzzzzzz. As Mad Yank said, "Is this a display of poker skill or absolute conservatism?" There was even the possibility that it was slightly contrived, just so the players could get a bit more air time and make out as though they'd been in this epic battle of supreme poker to which neither player deserved to lose. However, I think that idea may be a little too far fetched, it was most likely a question of 'Please, please, please let me have the bracelet!' as winning an Event is becoming increasingly more difficult as they years pass.
In the end, I think it came down to a flush draw vs top pair jobby, but by that point, I really didn't care. They both seem like nice chaps, but I'd be lying if I said I wasn't pining for a Brunson/Ivey heads-up battle, now that would make great TV. Brunson departed to a standing ovation by the way, which, of course, was fully deserved.
The clock once again read 9am and I've never loved a hotel bed so much. 3 days of hard graft, a shattered body clock, and my Vegas trip turning into a holiday in the Rio cardroom - time to play some poker myself…