MORE VEGAS RAMBLINGS
he's human!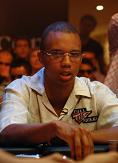 During the $50,000 H.O.R.S.E Event final (which included similarly familiar names such as Brunson, Reese, Bloch, Betchel and Cloutier), Phil Ivey raced out to the hotdog stand and queued with us mere mortals.

To see someone as renowned and wealthy as Ivey fiddling around with his coppers and munching on a sausage with the peasants was quite a sight, especially when he was playing for 1.7 million bucks.

I was shocked that Harrah's didn't provide a back room for these players to dine in during these breaks, especially when they are playing what many considered to be the biggest event of the Series. I mean, even the Grosvenor Events offer a buffet for the finalists, whoever they are.

snoopanova

A quick tip from this Beagle love machine (I hope that moniker isn't misinterpreted):

Wear a tuxedo, a bowler hat and speak the Queen's English wherever possible. The women go wild for it, whether you're aesthetically hideous or not.

Having said that, I do recall Paul Jackson being told 'English at the table' one year.

pray silence for the orleans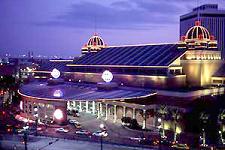 I love the Orleans – out of the way, quiet but lively, lacking the garishness of other casinos, a relaxed friendly atmosphere, plenty of familiar faces, aesthetically pleasing waitresses, a top notch cardroom, speedy room service, sizable rooms and, although it took me a week to work out what it was, a pretty good theme, if only for the fact that it meant that the waitresses had to don rather snug outfits. Marvellous!

And to top it all off, the Orleans was playing host to a Miss America contest. My dreams have finally come true, although some looked rather young, so I may have to retract that statement.

poo watch

Many of you may have noticed that I have adopted what I refer to as a 'poo watch'. This involves a trip to the toilet, whether I need to go or not, to eavesdrop on conversations undertaken during the breaks of big comps.

A recent example of this was the Barcelona EPT in which, whilst standing at the urinal, I overheard Ivey from one of the cubicles, innocently chatting away on his mobile. "I was bluffing all the way on that hand", and "This is the place to be" were just two of the intriguing comments that I couldn't resist in jotting down.

Now, although it sounds rather spontaneous, this wasn't an improvised strategy, but one in fact that was born in Vegas.

During the 10 minute break of Day 2 of the $50,000 H.O.R.S.E Event, a comp which included a concentrated line-up of famous names, I was gob-smacked to trundle into the public loo to find the urinals taken up by a who's who of poker.



Although Annie Duke was an obvious omission, Doyle Brunson, Barry Greenstein, Chip Reese, Andy Bloch and TJ Cloutier (the latter taking up a cubicle), were all chatting away about the comp in hand. All rather surreal, but I was determined to listen out for any scoops, and I wasn't disappointed. I left the khazi with some cracking quotes that now make 'poo watch' a necessity for garnering info that would otherwise remain hidden from the media.

To paraphrase a certain Jeremy Beadle show - Watch out, Beagle's about… especially in the loos.

work or play?

Before you make the trip across the pond, decide whether you're going for fun or to earn money.

If you're there to make money, then playing the cash games can be highly lucrative, especially with the droves of drunken tourists who swamp the various cardrooms.

If, however, you just want to have some fun, then don't be afraid to do so. Sometimes people forget that poker can be a form of entertainment, you don't always have to record your wins and losses, just think about it as a purchase. Free your mind (I feel like Morpheus saying that) and have a laugh.

Unfortunately, I got caught in-between the two.

a shrine to tikay

Whilst the Rio, Bellagio and Palms were modern, cool and hip, the Gold Coast was dated, uncool and full of people who needed hip replacements.

On entering, I was sure I'd stumbled into my Nan's local Mecca Bingo, but no, after some further observation it was definitely a casino – just full of oldies.

I'm sure I saw a gold statue of tikay in the centre…
the drinks are never free



To the sensible drinker, the best thing about Vegas is the free booze. As far as I'm aware, you are at liberty not to pay any tip so, effectively, you could get drunk for nothing, but be warned, send the waitress away without any dough and your cocktail may return with a slight tang and a frothy layer.

Unfortunately, not all of us are sensible, and I tend to fall into that oh so dangerous category, frequently following a familiar pattern:

-- Drink #1 = $1 tip and a few cents in the video poker machine (-$2)
-- Drink #2 = $1 tip and 10 dollars lost in the video poker machine (-$13)
-- Drink #3 = $2 tip and one losing $20 spin on the Roulette wheel (-$35)
-- Drink #4 = $5 tip and two losing $50 bets on the Paigow table (-$140)
-- Drink #5 = $20 tip and 3 losing $100 bets on the Blackjack table (-$460)
-- Drink #6 = bedtime

And before you know it, those 5 double White Russians have you almost $500 down and wandering over to a game you've never played before – a recipe for disaster.

Total cost for those free drinks = Well over a grand!

What I don't understand is why they exclaim "cocktails!" only for everyone to purchase a beer. There seems to be a lack of logic there, surely the correct cry would be "drinks!" or, at the very least, "booze!". The intoxicated mind boggles.
the ebay mission

Armed with a plain pack of cards, the initial plan was to have the 52 top names all sign a card (back or front? – boy, that was a big decision), only for me to make my millions (or ones) on ebay.

Although I failed in my mission to accrue a whole pack of signed cards (mainly due to a justified fear of massaging the egos of Devilfish, Hellmuth and the like), I did manage double figures.

In order of keenness to obtainess:

Phil Ivey – I felt like a Take That fan. Respect!

Doyle Brunson – From all the autographs he gives, this guy must have more hand cramp than the world masturbation champion.

Daniel Negreanu – Am I the first to get his autograph whilst he was involved in a hand? What a cheeky Beagle I am.

Allen Cunningham – like my windy pops, silent but violent

Scotty Nguyen – 4 simple words… "Yeah man, no problem". If he wasn't a cross between the Fonz and Mr T, he'd be the coolest dude in town.

Chris Ferguson – I don't care who he is, I want his totty for a night (with my girlfriend's permission of course)

Gus Hansen – grumpy git could barely force a smile. I am currently trying to wash off his signature.

John Shipley – Being a fellow Solihullian is enough to warrant inclusion.

John Kabbaj – If he new I called him 'cabbage' on the updates would he still have signed?

Carlos Mortensen – And I'll have his mrs too. I'm really not as greedy as I sound, honest guv. Took an age for us to get the lid off the pen though, how embarrassing.

Greg Raymer – grr, I asked him to just stick his name down, yet I looked down to see the following pretentious message: 'Play Smart!' Doh, and to think I'd been 'playing thick' all this time. Also, he was one of the few to request a specific card, demanding the 8 of diamonds because that's "the one I won the World Series with". Don't you need 2?…

Max Pescatori – Aaaaaaaaaar. Gotta have a pirate in there…

Mel Judah – Er… I like his grey hair.

Dewey Tomko – just need to get Hughey and Louis's now and I'll have the full set


I can't tell you how tempted I was to go up to Phil Hellmuth saying "Phil, Phil, how about an autograph?" and when he says "Sure, no worries, kid", sign the card myself and hand it over to him. The expression on his face would surely be priceless!

I almost got Amarillo Slim's, but he trundled off at the last minute. I MUST get his, if only because he's an asthmatic gnat's breath away from popping his clogs.

13 down, 39 to go. The likes of Jennifer Harman, Freddie Deeb, Ram Vaswani, Erick Lindgren, and co are next on the hit list. Might take a while to complete, but any early bids?…

to be continued...