GAMBLING IN MONTE CARLO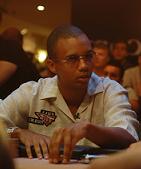 As ever, the long arm of the EPT not only brought us a cracking tournament (90 minutes with 15k starting stack is second to none this side of the pond), but it also sprouted the inevitable onslaught of hot gossip, the most newsworthy of which is undoubtedly the rumoured spat between Ivey, Goodwin and Vaswani.
With the debt unpaid, my sources inform me that the now infamous 'Ivey Hustle' debacle reached boiling point in Monte Carlo, with the 'Tiger Woods of Poker' demanding his money from the Brits. An argument ensued, but the two Englishmen stood firm. Looks like this one could go on for a while, folks, but I doubt Ivey will be too desperate, especially after taking Hellmuth for over half a mil at Chinese Poker – wish I'd been a fly on the wall when he was explaining that one to the Mrs.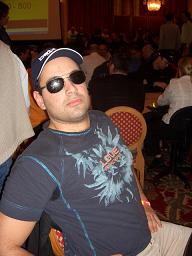 Talking of bets, Ivey's not the only one gambling non-stop. Whilst William Thorsson threatens to head the way in the 'sickest gambler' stakes with 25k heads up matches and 20k STTs, it's Roland Wolfe who nips in to snatch the title, throwing around 10k challenges as if they were 20p dares.
Firstly, the Dublin EPT winner challenged Kevin O'Connell to quit drinking for 3 months (er… good luck seriously, they don't call him Whiskey for nothing) and secondly, he offered to buy Jen Mason, my update partner, into the World Series' Main Event if she kept off the ciggies. Whilst the former is a no hoper, Jen could certainly pull it off, although I won't be looking forward to covering events with her prior…
Like last year, Monte Carlo dealt out its fair share of jail time, this time in the form of a group of Americans (one of whom I hear was Shaniac), who all spent a day in the slammer after a drunken night out which ended in an unnecessary bout of vandalism. The food was probably better than the room service I got though!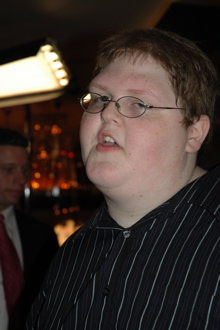 Whilst the arrival of Americans always tends to raise the odd anxious eyebrow, there were some seemingly nice lads in ActionJeff, Gobboboy (left), Alex Kim and co, all of whom seemed to be here for the poker rather than acting like idiots for a week. Of course, the flipside are cliques like the Holla Bolla boys (or whatever they're called), who shout 'ship it!' when their boy wins a hand. Dressed in suits and sipping champers on the rail, I had to laugh when one of them woke up the room with that increasingly annoying chant, before realising that there was still a player in the pot. That player re-popped and the American lad was forced to fold. Sigh.
On the virtual side, Dave Colclough was busy inhabiting the blonde forum and 'revealing all' in that open tell all way of his. Whilst we were all intrigued about his Cincinnati Club revelations, we were undoubtedly flabbergasted when he posted that he'd found the Mrs. In bed with a 26 year-old. Crikey O'Reilly!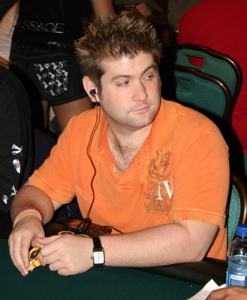 But amid all this hoo-ha, there was a comp going on, and this was won by American pro (again!) Gavin Griffin, who fully deserved the accolade and the accompanying 1.8 million Euros. Blasé in victory, the 2004 bracelet winner was out done in the laid back stakes when second player finisher Marc Karam happily confessed that he didn't need the money and that it didn't mean that much to him. He did mention that he might buy a Lamborghini though – go on Marc, force yourself.
If you're wondering where the DTD goss is, then don't threat, so much was witnessed that night that it warrants its own blog entry, so watch this space. If you've seen Simon Young's recent picture gallery, you'll know what I mean – Bill Chen… shudder.
I started this entry with the phrase 'long arm of the EPT', and that was used for a reason, because word on the grapevine is that the EPT will be reaching out to even more venues, one of which is said to be the Stag capital of the World, Prague. Sound exciting? Well, maybe, but like Neil Channing, I think you can have too many EPTs.
Finally, Lee Jones has NOT been arrested. See you in Dublin!