THE DAY I CURSED THE SKY POKER OPEN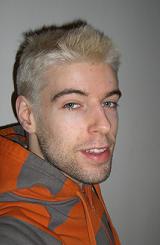 After spending most of the week either vomiting bile, drinking Powerblade from my bed or simply cursing the microwave meal that poisoned me, I wasn't in tiptop shape come Saturday. My joints were aching, my head was throbbing and I'd barely eaten in three days, but this was my chance to experience the TV world, and whilst I was tempted to stay in bed and watch another film on the newly found alluc.org, I didn't want to miss out on what was a wonderful opportunity.
For those of you that don't know, the Sky Poker Open is a brand new TV show on channel 846 that airs from 9pm onwards. A fresh new show, they invite members of the public to play a 500+ man £10 tournament from the comfort of their own armchair, either via the Internet or the all mighty red button on their sky remote. As the tournament progresses, the host and poker expert discuss the comp, analyse specific hands and talk about anything poker-related. Manwhile, three studio guests (one, namely moi, normally a nobody and the other two celebs) play from the studio with a bounty on their head. A simple idea, I'm sure you'd agree, but so far, it's been a successful one, and with a balanced mixture of poker analysis and general banter, it's become jolly entertaining viewing.
So, at 4.30pm, me and my empty stomach (or should that be 'my empty stomach and I'?) set out for Feltham (where the hell that is, I still have no idea) only to arrive at the Tube Station to find out that the Charring Cross route was closed for 'engineering works', although it did take me 20 minutes of glancing bamboozledly at the 'Waterloo (via Bank)' signs and wondering why Bank was so ruddy popular today, to realise this.
Now, being a complete novice to everything London-related (mobile phones have only just reached Birmingham!), I swiftly sought the assistance of a member of staff, who directed me to London Bridge, which would then lead me onto Waterloo via the Jubilee line – so at least there was a relatively easy alternative, as being 2 hours later wouldn't have looked too good.
Anyhow, after enduring a tedious (yes, tikay, trains are boring!) train ride from Waterloo to Feltham, I hopped off and unearthed my directions. 'Take the first right' – check, 'walk down the road' – check '…passed Tescos' – che… "Nope, hold on, I don't think Asda counts." Er… "Tescos, where are you?…"
Well, it turned out that there were two entrances to the train station and, of course, I'd chosen the wrong one, so after an embarrassing 'Waaah, I'm lost!' phone call to Sky and a detour that turned the initial 10 minute stroll into a 30 minute jaunt, I eventually arrived at my destination – the innocent looking Aquiva Studios.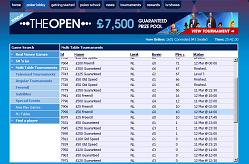 After signing what felt like a billion documents, I was escorted into the 'green room' (snoopy in a green room, who would have thought??), where I met Scott and Dean of Coronation fame. After I asked them who the 'eck they were, we sat down and got chatting, a little about poker, but mostly about me being nosy and learning how Scott had been a stripper in the show and how Dean has being belted by Ken Barlow (now that's something to put in your CV!) and snogged by that Sarah Louise Platt lass (now that's something to tell your mates!)
A 'behind the scenes' camera crew were also present, and they were doing interviews and following us around in Big Brother style. To be honest, talking to these guys probably helped me prepare for the real thing. What I did notice however, was that the Cori boys were complete naturals, which did concern me a tad, especially when I went on to mumble and bumble my way through the interview.
Next up was the make-up (I believe the clothes department considered me a lost cause). "I'm afraid we're going to have to put a LOT of make-up on you," said the make-up lady. "I hope you like Dale Winton", she sniggered. Gulping, I sat back, thought of England and prayed that I didn't look too bad, although that image of Rodney Trotter getting trapped in the sunbed did keep popping into my head. A few minutes later and there I was, the modern day Bob Monkhouse, fresh off being tangoed and ready for action. At least I didn't look like the cartoon from the 7-Up advert any more!
A quick tour around the 'techie' area where I couldn't resist saying the comments, "Blimey, when does the shuttle launch?" and, in an 'I really do watch too much Cribs' moment, "So, this is where the magic happens", it was onto the studio floor and the remarkable virtual set. With its sparse design, all-green surroundings and bits of tape on the floor, it's nowhere near as fancy as it looks on the TV. In fact, it's just a desk and few cameras with a bright green background – something that has to be seen to be believed!
Seated at the desk, the reality suddenly set in that I was going to be on live TV in about 45 minutes and, not surprisingly, my mouth became very very dry and I feared that my first words would make me sound like Phyllis from Coronation Street.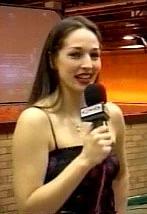 For some reason, I didn't expect anything to happen till 9, but there was a decent amount of rehearsing where Richard Orford (boy he's dapper) and Kara Scott (boy she's hot) applied the words 'yada yada yada' at alarming frequency. They also pre-shot a couple of clips such as Richard introducing the show and the guests even had to come up with what were 'action shots' – I wished I'd kissed my guns in hindsight. Most amusingly, I will never forget Richard using the frightful term "Some hot finger on mouse action", which, unfortunately, he never carried through into his live performance.
The clock struck nine, the green 'live on air' light glistened and the presenters were away. The cameramen (and women) glided around like figure skaters and it all went very quickly. I recall one cameragirl sliding up beside me only for me to inexplicably ask, "So, come here often?" Well, I thought it was funny.
In a matter of minutes the camera panned around to my mug, along with the slightly more refined thespian company beside me, and the brief introductions began. Now this is where I really started pooing bricks, but I just thought "Be yourself and you'll be fine" to which I followed up with "Crap, that's a foolish idea, be someone else!"
Before I knew it, the camera was on me and Richard was firing questions left right and centre. At this point, I have no idea what I said or how I said it, but I do know that it went very quickly. Very quickfire, so long answers or anecdotes were not a good idea. But I got through it, and we were away, whatever I said…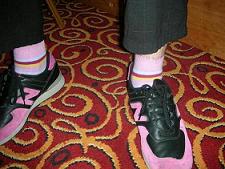 It was at this point that I realised that nothing was coming up on my screen, which was slightly concerning considering that we were meant to be playing a tournament. Soon after, it was made apparent that there were 'technical difficulties' and, although I was forced to answer an expected email from tikay regarding my FUCHSIA trainers, that was pretty much it for me. I did get back on at one point, but my chip stack had shamefully halved. I managed to double up with 7-7 vs. K-5 and even climbed to the dizzy heights of 3,300, but by this time, I think the show had pretty much been cancelled. They messed around with the software for a bit, sticking up promos to occupy the viewers, but the gremlins had truly invaded the system and had no intention of budging.
So, my debut at the Sky Poker Open had been an interesting, if rather brief one, but it was eye-opening to say the least. From what I understand, they don't get too many days where it all goes tits up and they're forced to come off the air, so I guess I may have cursed the show, much in the same way the Exorcist sets were forever damned – well, I certainly hope that's not the case here.
What I did learn however was that you have to try new things, however wary you are about them. I was determined to give this a shot and whether I was starving myself, throwing up or excreting through the eye of a needle, there was no way I was going to miss out. Hopefully, with this episode falling short, I'll receive a second chance and get called back where I should be fully fit and not accompanied by the apprehension that I brought with me the first time around.
It may have gone the shape of the pear, but it was an incredible experience that I enjoyed throughly and I'd do it again in a shot.