DOUBLES IN DUBLIN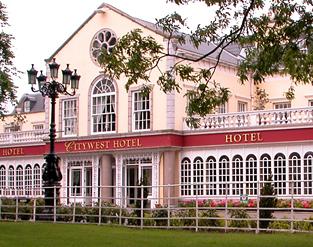 Apart from the World Series, this last January was probably my most hectic month to date. First stop of the year was the Irish Poker Championships in Dublin where the Guinness is always flowing (like having a meal, so they say) and the shots are always doubles.
In aid of our budget, Jen and I (well, Jen really, but don't tell her I said that) decided to take the bus, rather than a taxi. Big mistake because this place was in the middle of nowhere and boy did we pay. Three hours later (including 2 bus journeys, and a 30 minute walk – with bags on shoulder, grr!), we finally arrived at our destination, the CityWest Hotel.
Now, I won't go into how nice the hotel was and so on because I am still bitter by the lack of food at night. For some reason, these hotels decide that they don't like money and so refuse to serve food after 11. Great, hundreds of poker players (who, funnily enough, spend a lot of time awake post 11) walking around with faces like smacked asses because they can't get any food – and I was one of them! I get up at 1pm, update all day, eat their crappy buffet and that's it – no more food for me. The late finish means I don't get to bed till late, so no breckie either. Hmm, gaining weight is going to be a lot harder than I thought.
Forgetting that and the annoying lack of any ATM machines (argh!), the place was all right I guess, and the bar (which was huuuuuuge) was admittedly very nice. Best of all though, the cardroom let us play a €50 Euro STT after the Main Event (dealer dealt – woohoo) which involved myself, Jen, Noel 'BigCityBanker' Hayes, LuckyLloyd, Pat O'Callaghan, Mike Lacey and er… Mateboy – winner takes all. It was a right laugh, but I think Jen and I were the only ones taking it seriously, as Mike would consistently make monkey plays, calling hands with Queen high and whatnot, although I think the monkey approach is his normal game if truth be told. Anyhow, to cut a long story short, I ended heads-up with LuckyLloyd, who, incidentally, is the chap that won the Green Joker Poker Festival. Final hand? 50p at the ready… A-A vs. J-T, of course, the J-T held up and I endured the walk of shame. All good fun, but I really could have done with that €400 first prize, however much the beer was flowing.
Back to the Main Event though, this was won by Irishman John Clancy, with American Scott Byrant a good second. I think Scott was probably the strongest player on the final, but John seemed pretty handy too. I remember one hand between Ciaron (sp?) and Keith Cummins. Flop was 9-2-3 rainbow and both players got into a raising war with Ciaron on 9-2 and Keith top pair. Massive pot that Ciaron did indeed win, I'm just not sure how Keith didn't recognise that his opponent had two pair, everyone else did. Except for a stonecold bluff, which is unlikely due to the amount of raising on the flop, the only hand he could have was perhaps 4-5, and even that was a stretch.
What was most intriguing though was the play of the locals as a whole. Keith was a gutsy type of player who liked to make big calls (be they right or wrong), but boy, those Irish lads sure are loosey goosey – chips were flying everywhere. Forget Vegas, if you want to earn some money, go to Ireland. Some of the plays were truly bizarre. I think I recall tikay mentioning that some fella got it all-in pre-flop with Ace-Rag, and this was level 1!
They all drink like camels too. A moment wouldn't pass without some guy on an STT standing up and shouting at the top of his voice. In fact, I think those STTs were the noisiest I've witnessed in a long time, but it appeared as though everyone was having fun.
I think 'fun' is the key word though at events like these, because whilst most people gave it the thumbs up, there are few who weren't convinced, one of whom was LuckyLloyd (p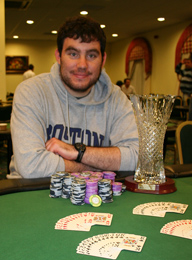 ictured - photo borrowed from the
Antes Up
site). On the last night, he was commenting that the people who like these events are recreational players, just there for a gamble, and that the festival wasn't suitable for serious players. He mentioned the food, crappy cards, etc, but the most important negative he highlighted was the standard of the side events. Although he was unhappy with the shoddy way in which they were run (in truth, the TD's really didn't pay the €500 and €750 much attention at all), he was mostly critical of the structure, which quite frankly was one of the worst I'd witnessed. Although I believe they upped it by 5 minutes, the initial clock for the €500 was 20 minutes, which for a festival event is pretty poor. "€500 is a lot to many of these guys, they deserve a proper game," moaned Lloyd. I think that says it all.
Ps. We took a taxi back.