GUTSHOT CHALLENGE: EVENT 3 - £200 PLO F/O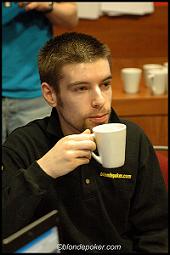 Although I was planning on playing the whole week, I decided that a good performance in the Main Event was more important to me than trying to play every event unnecessarily, so, with the 'big en' only 24 hours away and 2 tough days of poker behind me, I thought it best to take a much needed and richly deserved day-off.
However, I'm as sick as the next poker addict, and couldn't resist taking on the Grosvenor Grand Prix satellite on Blue Square, a potentially costly $200 No Limit Hold 'Em rebuy event.
Entering the comp wasn't easy though. Firstly I realised that I had no money in my account, then I found that my debit card had expired, and, after sorting all that out, RED-DOG, who was playing from the same IP address, suddenly chipped in with, "What happens if we're on the same table, will it sit us out?" And so, with just minutes remaining 'til kick-off, we were back on the ol' dog and phone searching for reassurance that we could play kafuffle free, assurance that thankfully came just in time.
To avoid all the boring details, whilst RED couldn't hit a cow's ass with a banjo, I was spanking it `til kingdom come with a ukulele, eventually sailing into the top 7 and confirming my seat in this year's Grand Prix. $400 spent for a £1,500 seat, now THAT'S value.
I don't know if times have changed, but I was ecstatic when I qualified for my last £1,500 Event, but this time, I just seemed to take it in my stride, as if it was nothing big.
Personally, the fact that I'm involved in the event is more important than the value, money or potential prize. Updating every event is fun, but sooner or later, you can't help but succumb to the green-eyed monster, yearning to mouth-watering extents to be involved in every hand you witness.
It's just a shame that the Grand Prix wasn't a few weeks away, as after this one, it's back to the tedium of the cash tables. Having something fun and exciting lying ahead helps life trundle along at a much less hesitant pace.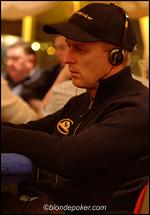 The Grand Prix has an excellent reputation as one of the few big Pot Limit Tournaments on the circuit. With a big prize pool and numerous ways in which to qualify, this one seems to attract a high concentration of sharks. As of now, Surinder Sunar, Joe Grech, Lawrence Gosney, Paul Jackson, Dave Colclough, Ash Hussain, Lucy Rokach, Alli Mallu and Stuart Fox have all qualified via various sources – a tough field indeed but, as I'm always saying, I'm playing for the glory rather than the money. I play ring games for cash, the spondoolies from tourneys are just a bonus. Enjoying poker is the main objective, and there's nothing more satisfying than surviving a 250+ field.
As before, I've decided to stay away from the online cardrooms this week, mainly to remain fresh and avoid settling upon a cash game mindset, but also due to feeling under the weather. I seem to have picked up man flu from somewhere, I just hope I can dispose of it before Saturday.
I may be bruised and battered, but I've had a few laughs over the past several days. In an earlier blog entry I recall mentioning RED-DOG's snazzy belt. Well, he approached me the other day and told me that NoflopsHomer was after one too, but has since decided that having 'Floppy' above his waist wasn't the best of ideas, not unless he wishes to live a life of celibacy.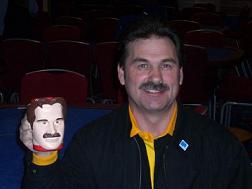 Speaking of RED, I had to laugh when he woke up one morning only to report a theft. According to Tom, the cat in Dana's flat had swiped his socks during the middle of the night. For anyone who's met Mr Cat, you'd be obliged to agree that at 17, she is one of the most lethargic and unthreatening cats alive, and to think that she would be involved in any kind of cat burglary (ahem) seems rather unbelievable. Plus, who'd want RED's smelly socks anyhow? "I'm sure she's had em," complains Tom, "I reckon she's got a sock nest somewhere".
Actually, RED was on top form this week. After moaning about his endless run of near misses in the Grand Prix qualifiers, I enquired, "Do you find that the journey home goes quicker or slower when you've suffered a bad beat?" to which RED-DOG answered, "Quicker, because I go at 150 miles per hour." Maybe it's just me, but that's been tickling my ribs all week.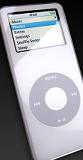 My ipod amused me this week too. It sounds fabricated, but, on two separate all-in occasions, I genuinely had 'Should I Stay Or Should I Go?' by the Clash and 'Under Pressure' by Queen pop up in the background. Seems like the ipod was having its wicked way with me. (ps check out the ipod piccy, the ipod's slanted but the frame's straight... feels wierd, huh? My poor head!)
When I play poker I often specifically select a self-motivation song. Come on, confess, you all have one. Well I'm not ashamed, mine's 'You're The Best Around' from the Karate Kid Soundtrack – a true classic and a real adrenalin pumper. During one of the breaks, I saw Ade Bayo popping on his ipod and resting his eyes, so, to make conversation I asked him who his inspiration was. I think he misunderstood me as he answered TJ Cloutier, either that or TJ has taken up singing.
Something that really brightened up my week occurred on the final table of the Grand Prix satellite. As we hit the last 8 (only 7 seats available), one of my opponents typed, "Come on snoops, say it…" to which I replied bemused, "Say what?" And then he hit me with, "STOP! BUBBLE TIME!" Now that's when you know you've made it (okay, maybe not), but it made me smile. I dream of a day when the WSOP bubble period is announced over the microphone with MC Hammer himself exclaiming those immortal words. I'd soil myself with excitement!

But dreams are just that, dreams, I've got more realistic duties lying ahead, actually winning a comp for a start. Fresh, revitalised and full of beans from my day's rest, the £500 No Limit Hold'Em Main Event was just around the corner – 168 players, 1-hour clock, decent blind structure… sounds good to me. I'm confident, playing well and in the mood for a win – was this going to be my time? If only I could shake off the threat of an ostrich revelation I might just have a chance…