GUTSHOT CHALLENGE: EVENT 5 - £50 NLH F/O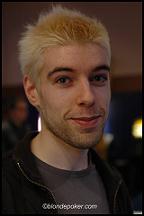 What is it with the poker world that they feel the urge to add a pithy low stake comp at the end of a festival? I'm not complaining, just wondering why all festivals follow the same pattern.
I won't dwell on the tourney too much - the 20 minute clock and 2.5k starting stack was pretty ruthless. I ran and Ace into Kings before the blinds forced me to shove it in with crap, which, as you will have guessed from my tone, didn't triumph.
In hindsight, playing this one was probably an error. I was knackered, and forcing myself to play is probably the reason why I've spent the week coughing and spluttering, finally heading into the Grand Prix in poor physical condition. I think it burnt me out, which is ironic, as I took a week off updating to rest and play poker.
Danafish also played the event. She doesn't play too many comps and is normally restricted to her $5 STT's, so it was nice to see her at the felt. This is what she had to say about the tournament:
"I don't very often play live poker. I prefer it on the internet, where I can hiss and scowl at the computer when I lose, and shout "in your face!" at the screen when I win. Additionally, I'm still a little sore with the Gutshot for firing me from my job as a dealer there about 3 weeks after they opened, so I was slightly hesitant to allow myself to be bought into the £50 freezeout they were having as part of their festival. But snoopy had threatened me with the guns about it the day before, so I put aside my reservations and headed down to Clerkenwell.

I found the Beagle, who had gone out of the main event lamentably early in the day, lurking around the tables watching the people still in. I went over to talk to him, and something behind me tugged at my hoodie - it was tikay. To my shock, he was still in the £500. I almost didn't recognise him with chips, but it was smiles all round once my brain had come to grips with what my eyes insisted was the truth.

The Gutshot is a friendly old place and much nicer than it was during my brief employment there a few years ago. As well as acquiring the premises next door to house the big, no-nonsense card room for tournaments, they've also made the old basement card room much pleasanter, not least by ripping out the carpet on the stairs that smelled like the accumulated pee of ages. The aroma now lives on only in my nightmares.

Owing to snoopy's early main event exit and low boredom threshold, I'd got to the club early enough to have some dinner before the tournament started. I can thoroughly recommend the ribs. Other dishes may also be good, but every time I see the ribs on the menu, everything else pales into insignificance. Jen first introduced me to snoopy at Gutshot, and as I was sitting on the same sofa I was slumped on at our first meeting, eating a very familiar plate of ribs, I mused in a high-on-meat sort of way about how in the past six months I have been hopelessly sucked into the poker world, and what a fine old time I've been having here.

Anyway, the tournament.


I bagged me a bunch of chips early on with 8-9 suited, turned a straight, and got paid off by a gent who'd hit top pair. It was looking good. A few hands later I called an all-in with a pair of 10s, and a gentleman a few seats to my left, who had amassed a huge stack of chips by playing like a maniac, also called. I turned a set, but for some reason checked it down. I'm still not sure why. I think my inexplicable wussiness threw me for the rest of the tournament though, because it all went a bit wrong after that.

I basically didn't see a hand I wanted to play for about an hour, and eventually the stingy 20-minute blinds started to really hurt. The blinds leapt from 150-300 to 250-500 on my big blind, and with about 4,000 chips left I started to feel desperate. When everyone folded around to my button, I went all in with Jack Queen, and lo and behold, the big blind called me with either King Queen or Ace Queen, I can't quite remember what happened because my forehead hit the felt in despair as soon as I saw I was dominated. Ah well. That's £50 I'm not going to see again. Glad it was snoopy's and not mine...

In fact I didn't feel too dreadful about anything in particular as we headed back for a nightcap at Hampstead's finest late-night milkshake emporium. It had been a fun night, marred only perhaps by snoopy annihilating my Puzzle Bobble high score on my phone while I was playing the tournament, but I suppose it's nice he's found a game he can consistently win at. I suspect I'll be back at Gutshot before long. If only for the ribs..."
I'm glad I played the Gutshot week. Overall (travelling expenses aside), the week only cost me £89, and that isn't to mention the Grand Prix seat I won for $400. I finalled in the £200, was unlucky in the £100 and made Day 2 in the Main Event, so even though I didn't make my millions, it really wasn't a bad few days.
What I will say, however, is that it was a privilege to play at the Gutshot. Although the waitress service was poor to non-existent, I feel obliged to highlight the high standards of the bar-staff and dealers, all of whom worked swiftly and efficiently. And then there's Jake. I've previously had my reservations about his tournament directing skills, but this week he proved me wrong, making decisions with speed and authority, adopting a rather pleasing 'My way or the highway' attitude.
So, Gutshot challenge over. No big bucks but pride still in tact. That final table finish was crucial to me, if only to remind myself that I was capable of making the latter stages. Still, it hurts to get that far and not win it, but that's poker I guess. I'll just keep plugging away until I hit something, hopefully the Grand Prix will be the money shot…