MY FIRST TASTE - PART I
Last weekend, I had the immense pleasure of experiencing my first Main Event… ever.

I've been playing poker for over four years now, but due to a combination of updating duties, lack of time, being poor at satellites, and budgeting my bankroll, I've never got round to hitting the felt come the weekend of a festival. I was excited, nervous, and apprehensive all at once. I couldn't believe it, I was finally going to play one of these things…
… And I couldn't wait!
Saturday morning I couldn't eat. I haven't had the stomach knots since I first ventured into the Gala as a naïve innocent student, but now they were back… and I was loving it! I thought this passion would never return, but it had, and I felt on top of the world. All I had to do now was win the bloomin' thing. Easy peasy.
Trundling nervously into Luton Grosvenor Casino, I was met by the now surreal picture of tikay and Jen sitting behind the laptops. For once I was the player, and to be on the other end of the updates and the piccies was definitely going to be a bizarre but welcome experience. In fact, at one point, I had to stop myself from counting the stacks on my table, force of habit I guess.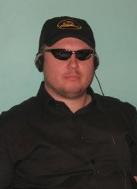 After forcing down a Chinese meal with the generous Mr Tyler (pictured left) and shouting out some obscenities (ask B4Matt), we ventured back into the battlefield and braced ourselves for the night's action.
I always play comps with the utmost confidence with my goal being to hit the number 1 spot… and I normally believe the hype I inject into myself. However, that day, although I was in positive mood, I hadn't booked a hotel room as it was my first Main Event and I was reluctant to jump the gun.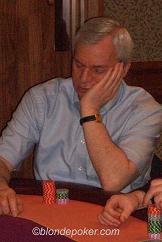 I'm not the coolest guy in the world (Antecool... I hope), so I will confess to shaking like a winter leaf as I took my seat at the table. The intimidating face of Bambos Haralombos Charalamonos (or whatever his name is) to my right was not a welcome sight, but if I was going to take this title, I'd have to beat all these guys… Willie Tann, Barny Boatman, JP Kelly, and so on. All top class players, but no one's unbeatable, so I wasn't going to start lying down just yet.
I quite like mixing it up at the start of festival events by playing a wide range of hands, but with tikay sacrificing his spot in the comp to cover my updating duties, I couldn't help but fear the early exit. Being the gentleman he is, I'm sure he'd consol me sincerely, but no one would criticise him for thinking, 'For crying out loud snoppy (even his inner thoughts mispronounce my name), I could have played this comp' if I was to fall at an early hurdle.
The man in the suit announced those immortal words, and we were off…