BACK ON THE AIR

Having just returned home from Dublin, I'm back on the road (or air) for yet more poker festivities, this time the Master Classics in Amsterdam. In fact, I'm on my way down to London now in preparation for my flight tomorrow. Wasn't a good start though, I was running a bit late and what was the first thing the taxi driver said when we reached the end of my road? "Is it left here?" Sigh. He was nice enough though, and I couldn't help asking that popular passenger question – I tried to resist, promise – "So, what time did you start?" Hmm, as if I give a flying feck.
Anyhow, I'm safely on my Virgin train now, although I was obliged to stand for the first couple of stops, and am looking forward to seeing Dana again, albeit for just the one day.
Trains have become one of my few stopgaps these days and normally my only chance to update my blog. Most of my time is spent in front of the laptop and I'm a little concerned that I'm developing square eyes, so I only really update it when I've nothing better to do. And boy, is sitting on a crowded, stuffed and ultimately rather tedious train one of those times. (I really have never understood why there are so many EMPTY first class carriages. If you know the answer, then please enlighten me.)
But back to Dublin. I've already written a few articles on this Event, so I don't want to repeat myself too much, I'll go mad otherwise. But just to touch upon the highlights…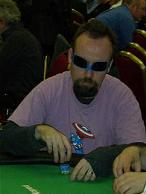 -- Andy Black caused a murmur of laughter in the pressroom when he sat down at the feature table. He dipped into his bag, unravelled some tin foil and popped a sausage into his mouth. He's a real character and whether you love him or hate him, he can be the life and soul of these EPTs.
-- Much in the same way as Adebayo, I guess, who was making what I understand was his first EPT appearance. A real Marmite man, and boy, those Scandies won't know what him them. Ade didn't hang around either; first level, Scandieboy makes a standard raise and Ade moves all in for around 20k (yes, you heard correctly, 20k!!!) from the big blind. Scandieboy passed and Ade showed Q-8 off, cue the routine that all those Gutshotters have witnessed so many times before. "I love myself", kiss the guns (well, pistols), "I'll defend my blind to the death", hand out his card, blah, blah, blah. Part of me (well, the little horned guy on my shoulder) hoped that Scandieboy had Aces. I actually don't dislike Ade, he can be annoying to play against, especially when you're on a short clock, but I do have a certain level of respect for both him and his game, but I fear I might be the only one. Oh, and before I move on, whilst PokerStars were filming the whole escapade, Roland de Wolfe had popped a slice of lemon on Ade's head without him knowing. That's gonna make great TV. Lol.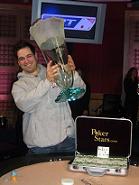 -- Of course, you have to mention the final table. Roland, Nick Slade, Rob Yong and even Gavin Simms were flying the blonde flag. It's amazing to get so many Brits on there, but for them to be blondeites too is uber cool (new word for you there, kids). After the final, I asked Roland how he felt about winning all that money, to which he responded, "I'll see how my NFL bets go first". The mind can only boggle to how big those bets must have been…
I was really pleased with updates in Dublin, There were very few mistakes, we posted regularly and informatively and successfully conveyed our overall enjoyment of the comp. After being called in last minute in London, I was pretty grumpy for that week, but in Dublin I was a happy bunny. Perhaps because I'd temporally quit playing online, I'm not sure. It was definitely getting me down. Playing online cash is really tough when you are breaking even for so long, and even tougher when you drop 3k in the space of a couple of days. What really demoralised me was my response. I didn't eat much, barely went outside, was moody with the Mrs, played 20 hours straight – just not me and I didn't like the way it was going, which is why I knew that I HAD to take a break.
I still plan on playing Walsall though. My finances aren't quite as bad as I first thought, so I see no reason why I can't give the Midlands Masters a good go, there are some decent freezeouts on so I'm looking forward to giving them a crack.
I won't play online till afterwards, I need to come back fresh or not at all. To get myself in the mood for Walsall I've been playing some multis, enjoyable but to little effect. I also gave the Blackpool satellite a stab on Blue Square. Was going well early doors but then got cold-decked a few times, most notably an A-9 vs. A-7 on an A-A-x-7 board and then, with just 10 left, A-K vs. A-A in the blinds. Bah, was a bit gutted as there's a bit more riding on these for me – 2 days of fun or 2 days of hard work – but it's not the end of the world.
I received an email the other day from Ladbrokes, my original home from 4 or 5 years ago, who said they'd noticed I hadn't been playing and subsequently shoved 10 bucks into my account. I normally think this is a waste of money, but before I knew it I was back on Laddies trying to turn $10 into a million. Well, I guess I was wrong, it really does work!
I had to start off at a $5 STT as I couldn't afford the registration on anything higher and didn't want to deposit. Incredibly, I actually won it and came 2nd in the next. I almost won the 3rd one too, but some geezer made a crappy call with a gutshot draw and managed to bubble me. Bizarrely, I was really gutted as I'm currently treating this as a challenge. I'm on around $35 now and I'd love to somehow turn that into thousands, so it's frustrating when you run into a bad beat. Gosh, a week or two ago I never thought I'd be worrying about bad beats on a $5. It's therapeutic though and will help my game ten fold.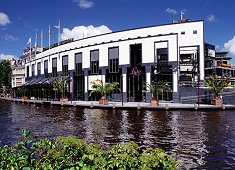 But enough about all that, it's back to work I go, and this time the beautiful Netherlands. I'm a big fan of Amsterdam, I went there a few years back and had an awesome time. It really is very picturesque and I can't deny my eerie fascination and intrigue in the red light district. It truly is one of the strangest experiences I've had, walking through an alleyway with women selling themselves in shop windows. It's kind of Lynchian in some ways, especially with the demonic red lights beaming from every room.
Of course, the whacky backy's a good laugh too, especially if you go with a non-smoker as they always make a bit of a tit of themselves. It's worth going just to sit in a coffee shop and ask for the menu. If you're expecting Espresso and Cappuccino, then you're going to be sadly mistaken.
In terms of the poker, it's going to be a great tournament, but a tough update, and I worry that people might not understand the restrictions we are sure to experience at Holland Casino and assume our standards have slipped. According to tikay, they could barely get near the tables last year and were thrown out during the latter stages. The Casino just has a ruthless attitude towards the media, which is fine as it's their decision, but it don't half make life hard for little ol' us. So, it looks like I'm either going to have to utilise my boyish charms or whip out the guns, or even worse, a combination of the two!
So, it's all go, but I'm still enjoying it. Almost a year since I started my blog and boy have I had a blast. I've been to a lot of places, experienced many things, met loads of people and learned a hell of a lot. It's safe to say that my life wouldn't have been the same if I hadn't accepted this role, but every day's a new day, and I've reached a stage where I'm thinking, what next?…