MY MIDLANDS MISSION - PART II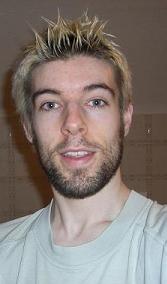 Righteo, let's get the boring stuff out of the way first. Deep breath…
Broadway £20 NLH R/B, 88 players, £6,400 created, £2,560 for 1st, standard was poor, played few hands in rebuy period, no rebuys, won last two hands, took top-up, had 4.5k, doubled up T-6 vs J-4, doubled up 9-9 (first raising hand) vs A-K, eliminated player 8-7 vs 9-2, lost A-T vs 5-5, doubled up A-A vs K-Q, lost A-K vs 7-7, trebled up 9-2 (blind) vs A-Q vs 3-2, doubled up A-Q vs K-8, eliminated player Q-2 vs A-8, made final with 28k, up to 42k 7-7 vs K-J, down to 27k A-T vs Q-J, nicked some blinds, blinds 2/4, all-in for 32k from button with K-Qs, called by J-J in sb, pot for chip lead, K on Flop, J on River – 7th for £224, 10% to Stu, £161.60 profit.
And exhale.
So, a good start to the week. Not a big cash, but a final table nonetheless. The nature of my exit hurt due to the size of the pot and the nasty river, but it was just a coinflip in the end, so I can't complain. Still, in what was a very top heavy structure, I honestly think I was the best player at the table and would have gone on to win the comp from there and ultimately take home the £2,560 first prize, which really would have started the week off nicely.
I think I was lucky last night, I can admit that, but you have to be in these comps. I didn't get one raising hand during the rebuy period, so I guess there are different ways of assessing the luck factor. What is disconcerting though is the amount of times my tournament life was on the line. I often judge my performance via this method, and last night, seeing as though I was all-in on 5 separate occasions (3 of them with the worst hand), I think I was lucky not to exit prior to the final table.
Poker aside, last night confirmed what I originally thought about the Broadway – it truly is one of the best casinos in the country and it's good to see that they have maintained their standards. Friendly waitresses, dealer dealt tournaments, well organised cash games, efficient dealers and cardroom staff that work like Trojans.
I did notice some same village play though, and it's a shame that this type of collusion still exists. Someone really needs to clamp down on this, because too often it occurs during a comp and although people notice it, they are just too scared to mention anything, especially if they aren't a regular.
I had a great time overall and I was definitely reminded of how fun a rebuy comp can be. It was tedious at the start, but when we reached the final few tables, a really relaxed atmosphere emerged and there were laughs a plenty, which makes the whole experience so much more enjoyable.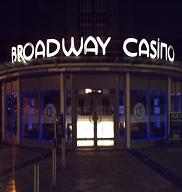 Good to reunite with Stu and reform the 'Lenton Mob', although it does often mean that one of us has to wait around, which is a pain. For some reason, we can never both go deep in the same comp.
Stu made me laugh this morning when he said there was someone humming continuously in the seat next to him. He didn't know what it was at first and was looking around the room trying to work it out, but then he realised that it was some mad fellow at the table, just humming monotonously, not even a hint of a tune. Thank God for ipods, huh?
I got myself into a bit of a pickle too with the twins from Walsall. I can't remember their names, but they are incredibly hard to tell apart. For some reason, I forgot that they were twins and started talking to one of them about a conversation I had with his brother in Amsterdam. Very confusing, but luckily he straightened me out relatively briskly. I guess he's used to it now, but once again, I felt like a right plum. In the interest of fairness, I genuinely believe the governemnet should force them to wear name tags.
Although there were a few recognisable faces, most of them were unfamiliar, but it's always interesting when you play with a bunch of new players, especially when they make assumptions about the way you play. The first time I made my move, I had 3.2k and the blinds were 200 and 400. Everyone folded round to me on the button and I raised 2.2k with T-6, trying to make myself look strong by not moving all-in. The guy on the Big Blind re-raised (around half his stack) for my last 1k. Obviously, I called and meekly showed my T-6. To my surprise, he revealed J-4. "I thought you'd fold for your last 1k," he commented. Well, I know I'm no maniac, but I didn't realise I was that tight!
Due to making the final and not getting home until around 5am, I decided to skip the Monday satellite so I could go into the evening event as fresh as possible. As a result, the new line-up is as follows:
Sunday - £20 NLH R/B @ Broadway (7th +£161.60)
Monday - £100 NLH R/B @ Walsall (£300)
Tuesday - £25 NLH R/B S-SAT @ Walsall (£125)
Tuesday - £200 NLH F/O @ Walsall (£200)
Wednesday - £300 NLH D-C F/O @ Walsall (£300)
Thursday - £500 NLH F/O @ Walsall (£500)
Friday - £250 NLH S/O @ Walsall (£250)Friday - £20 NLH R/B @ Broadway (£120)
… which therefore means that the most I can lose is now £883.40, but of course, if I keep this up that figure will be a profit rather than a loss. Fingers crossed.
Anyhow, must dash, want to make sure we're entered into tonight's £100 rebuy at Walsall. Good luck to all the blondeites! Weeee.
Ps. Ignore the photo, I'm clean shaven now and so don't look like a hobo.