MY MIDLANDS MISSION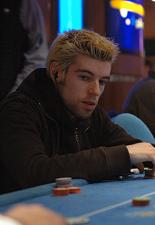 Some of you may recall that several weeks ago I took on the challenge of playing all the events of the London Poker Masters at the Gutshot Club. Although I ultimately decided to skip the £200 Pot Limit Omaha Event, a decision which led to me winning a Grosvenor Grand Prix satellite, I honestly feel that I gained a lot from the week.
So, we're back round to another Walsall festival and I'm up for the challenge again. Unfortunately, I'm updating the Main Event so won't be playing the weekend, but I'm still up for ambushing some of the midweek comps.
My running buddy from the Gala Nottingham days is coming up to temporarily reunite the 'Lenton Mob', and seeing as he hasn't been to the Broadway before, I thought I'd take him down for the £20 rebuy, a bit of a bingo comp but it attracts a decent crowd and makes around the 6k mark.
So, with that in mind, here is the planned schedule for snoopy's week of fun:
Sunday - £20 NLH R/B @ Broadway (£120)
Monday - £25 NLH R/B S-SAT @ Walsall, (£125)
Monday - £100 NLH R/B @ Walsall (£300)
Tuesday - £25 NLH R/B S-SAT @ Walsall (£125)
Tuesday - £200 NLH F/O @ Walsall (£200)
Wednesday - £300 NLH D-C F/O @ Walsall (£300)
Thursday - £500 NLH F/O @ Walsall (£500)
Friday - £250 NLH S/O @ Walsall (£250)
Friday - £20 NLH R/B @ Broadway (£120)

Considering that the brackets is the maximum expenditure that I am allowing for that particular event and that the events in italics are dependent on me cashing in previous comps, the most I can lose this week is £1,290.

Of course, that's a lot of money to most, especially when it doesn't include the Main Event, but I'm going to give it a crack. My bankroll can still handle it, but that's not the issue at the moment. I've reached a point where grinding is no longer fulfilling. Sometimes you just need to let loose, splash out and have some fun for a change. In this sense, I think people sometimes forget that poker is a form of entertainment and that paying to play these comps can be like a purchase. Not everything in poker should be about profit and loss.

Over the next week, I shall try to keep my blog updated with the occurrences of my week. I understand how boring and tedious retelling various hands can be, so I'll try to keep them to a minimum and focus more on the success or failure of each comp, who ran well and who didn't, any amusing anecdotes, and so on.

I'm both anxious and excited about the upcoming week. I can't express how much I am looking forward to playing, I just hope that I have my game face on and that Lady Luck is smiling down on me.

My mission for this week is to (i) have fun (ii) play well and (iii) improve my stamina. Hopefully, if all goes well, 'My Midlands Mission' will end with a blog entry entitled 'Mission Accomplished'. We'll just have wait to and see…